About a month ago, Steph at
Cupcake Project
posted an interview with Vere Chocolate's owner, Kathy Moskal. She broke it up throughout the week and each day a lucky commenter won one of these...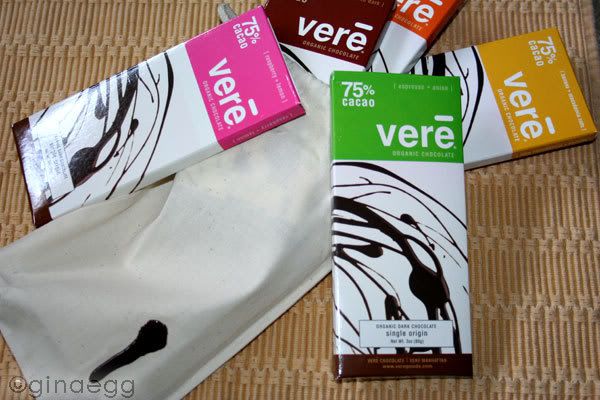 Yes, that's a bag of
Vere Chocolate Bars
. My initial shipment got lost in the mail and I didn't want Stef to think I was a slacker since, as a winner, I had promised to blog about what I thought of the chocolate. I let her know I had not received them and Kathy was kind enough to ship another set of the bars to me.
The bars arrived on Tuesday and were packaged to help protect them from the horrible Arkansas heat (it was in the upper 80s at 10:00 yesterday morning when they were delivered to my east-facing front porch). I saw the package as I was backing out of the driveway - thanks for knocking, DHL delivery man (she says, sarcastically). Hoping it was the chocolate, I parked the van in the middle of the street and I dashed to the porch to get the package. I was thrilled to see the return address label confirm that, yes, this was the Vere Chocolate. Ah, good chocolate - just the pick-me-up I needed as my
four-year-old daughter had cut her own hair
earlier that morning. I made myself wait until we got home from our errand to dive into the goodies.
I have to admit I did a double-take when I unwrapped the bag. My first thought was "Oh no! All that packaging to help protect it from the heat and there's melted chocolate on the bag!!" Then I felt the "melted chocolate" and thought, "Well, that feels weird." Um, that would be because it's not real chocolate. You got me, Kathy! Cute!
The first bar I tasted was the
Cayenne + Cacao Nibs
. I've heard many times of the combination of chocolate and peppers; having never tasted it, I was most curious. Also, another reason I was anxious to try this one, Kathy had
mentioned in the interview that it was her favorite
. Now I see what the draw is. Wow! The smoothness of the chocolate and then *pow!* the heat of the pepper - delicious. I gave my husband a small square (yes, I shared...some). He's not really a chocolate fan but even he was impressed. Ah, suddenly the DIY haircut wasn't so pressing on my mind. ;)
After dinner, I decided to try the
Espresso + Anise
bar. I love chocolate. I love coffee. I
do not
like licorice at all. However, this was a great chocolate bar. The licorice flavor was very slight and not at all overpowering. I like this one but it's not my favorite.
Of course I needed a "before bed snack" and the
Raspberry + Lemon
bar seemed like it would hit the spot. I broke off a few squares. I love raspberry. I like lemon. I thought the lemon overpowered the raspberry in this bar; however, I loved the raspberry seeds in the bar. Don't give me seedless raspberry anything, why bother? So I was glad to have the seeds. Loved it!
What could be a better thing for breakfast than banana? So,
Banana + Macadamia Nut
was my breakfast treat (before coffee so that I could really taste the chocolate). I shared some of it with my 2 year-old because she smiled so very sweetly and said 'please.' I'm not
that
mean of a mom - she's a cute kid! She wanted more. Um...no. Okay, maybe I
am
that mean of a mom even if she is a cute kid. I couldn't really taste the banana until I had quite a bit of chocolate in my mouth. I liked the bits of macadamia nuts rather than big nuts - I thought that worked better in the chocolate bar. I don't really like big hunks of stuff in my chocolate bars, anyway.
The
Ultimo
bar is just that - the ultimate. Plain, dark chocolate. And I don't mean plain as an insult. Plain and simple are *good* things sometimes and they're
great
things in the case of this chocolate. Smooth, delicious, bittersweet chocolate. And even better because it is organic.
Thanks to Stef for drawing my name out of the hat and a special thanks to Kathy for reshipping chocolate to me. I really enjoyed this!