One of my girls' favorite snacks is marshmallows. They love those things. Well, the ones from the store are practically nothing but chemicals! I've seen homemade marshmallows several times in
Martha Stewart Living
and I've always thought, "someday I'd like to try doing that."
Well...someday finally arrived...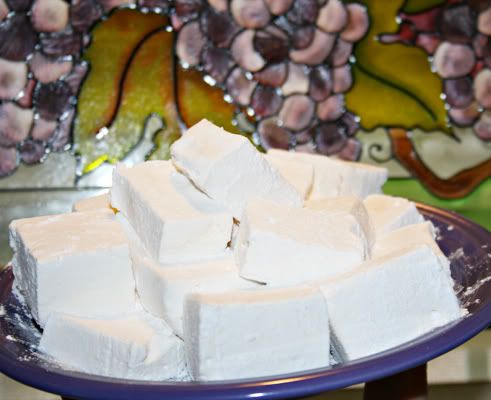 Saturday night after dinner, we made marshmallows. I say "we" because the entire family was involved in some way. Elizabeth sprinkled the gelatin on the water. Annie stuck her fingers in it to check it out. Katherine poured the salt and vanilla in while Brad was mixing. Brad was mixing because Harrison was screaming and only Mommy would do. On Sunday, after I'd cut the marshmallows, Elizabeth and Katherine rolled them in powdered sugar and piled them on the plate. It was a lot of fun! And...they taste great!
I'm not a big marshmallow fan, but these were good! And they were
really
good on s'mores. With the melted chocolate - yum! Elizabeth and I have decided that we're going to try making our own graham crackers and if we find a recipe for those that we like, then friends on our Christmas list will be getting S'more Marshmallows -- homemade marshmallows dipped in chocolate and then rolled in homemade graham cracker crumbs (friends and mommies of little girlfriends, pretend you didn't read that).
I took these to Care Group last night and everyone was very complimentary. One of the guys did tell me "Marshmallows are round and come in a bag - not square on a plate." So, just for Jon I may cut them with my round biscuit cutter next time and put some in a bag for him. ;) My husband agreed that they should be round and also thinks they need to be a little thinner - perhaps using a 9x13 pan next time. We're going to play around with them a few more times before we need to make them in earnest come December (at the very least, friends will be getting homemade marshmallows)
I used
this recipe
from
Slashfood
with a couple of minor modifications - we used an 8x8 square pan, we didn't have any corn starch to mix with the powdered sugar for dusting at the end and, we didn't "dust" our marshmallows we rolled 'em! I found that putting powdered sugar on the knife made the marshmallows easier to cut.
Homemade Marshmallows

.75-oz unflavored gelatin (3 envelopes of Knox gelatin)
1/2 cup cold water
2 cups granulated sugar
2/3 cups light corn syrup
1/4 cup water
1/4 teaspoon salt
1 tablespoon vanilla extract

Line 9 x 9-inch pan with plastic wrap and lightly oil it. Set aside.
In the bowl of an electric mixer, sprinkle gelatin over 1/2 cup cold water. Soak for about 10 minutes.
Meanwhile, combine sugar, corn syrup and 1/4 cup water in a small saucepan. Bring the mixture to a rapid boil and boil hard for 1 minute.
Pour the boiling syrup into soaked gelatin and turn on the mixer, using the whisk attachment, to high speed. Add the salt and beat for 12 minutes. After 12 minutes, add in the vanilla extract beat to incorporate.
Scrape marshmallow into the prepared pan and spread evenly (Lightly greasing your hands and the spatula helps a lot here). Take another piece of lightly oiled plastic wrap and press lightly on top of the marshmallow, creating a seal. Let mixture sit for a few hours, or overnight, until cooled and firmly set.
In a shallow dish, combine equal parts cornstarch and confectioners' sugar. Remove marshmallow from pan and cut into equal pieces with scissors (the best tool for the job) or a chef's knife. Dredge each piece of marshmallow in confectioners' sugar mixture.
Store in an airtight container.
Makes about 40 large marshmallows, depending on the size you choose to cut them.