The June Daring Bakers' challenge was hosted by Jasmine of
Confessions of a Cardamom Addict
and Annemarie of
Ambrosia and Nectar
. They chose a Traditional (UK) Bakewell Tart... er... pudding that was inspired by a rich baking history dating back to the 1800's in England. The recipe will be posted on the host blogs.
In the recipe directions for the frangipane, it said: "The batter may appear to curdle. In the words of Douglas Adams:
Don't panic
. Really. It'll be fine." Um, yeah...you could say it curdles...
However, it bakes up wonderfully! I used a raspberry preserves (because I like the seeds!!) and a wee bit of chocolate in the bottom of the tart...errr...pudding crust. Katherine and I cut into it while it was still warm - it was okay but not making my heart throb. I had another piece for breakfast on Thursday morning - loved it! So did Nin and Natalie (our friend who comes over to spend the day with us while I work). Annie didn't like the seeds in the raspberry preserves at all.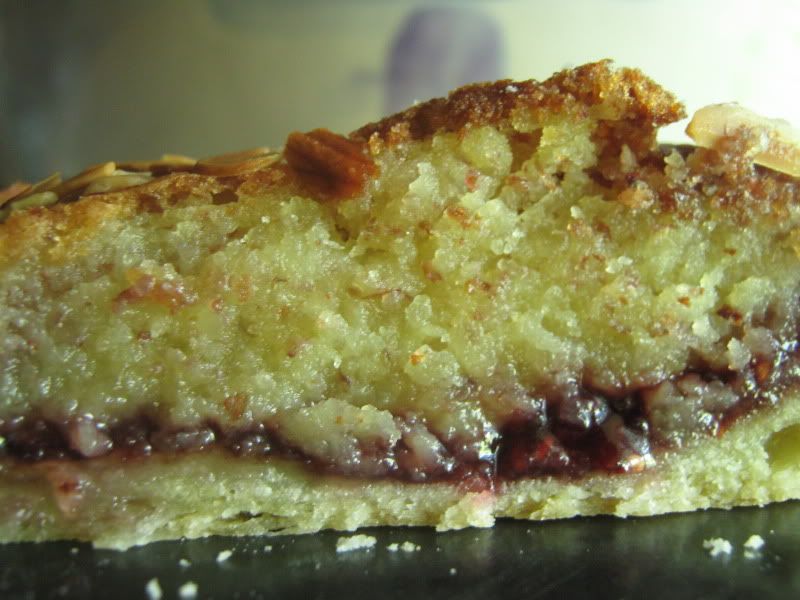 I'll definitely try making this again. The pastry crust wasn't nearly as difficult to make as I was afraid it would be and I actually did quite well! And hey! I finally got to use the tart pan that my friend Kathie gave me for my birthday last year!!! :) Fun!!!