edited to add: Pilgrims and Indians were made by my oldest daughter and me a couple of years ago (when she was three). I got the idea out of Family Fun magazine (my favorite magazine on the planet, I think). You can find them
here
should you wish to recreate for your own table next year. :)
Oh. My. I love the flavor of caramel and I like browned butter - combine the two - and well, as my 4-year-old says, "It was deee-yi-cious!!" The
Daring Bakers
had a great challenge for November. Just ask my waistline!
Dolores of
Culinary Curiosity
was our host this month. Co-hosts were Alex (Brownie of the
Blondie and Brownie
duo), Jenny of
Foray into Food
. And Natalie of
Gluten-a-Go-Go
was the go-to-girl for info on alternative baking.
Our hosts this month chose Shuna Fish Lydon's
signature caramel cake
(this is where you'll find the recipe for the cake -- QUICK -- GO THERE! You want to make this cake!!!!) We also had an optional challenge: Alice Medrich's Golden Vanilla Bean Caramels which I did not do since it was optional and my life is insane at the moment.
The first step in making this cake is to make a caramel syrup. This requires cooking sugar and water on the stove, waiting for it to turn an amber color and then pouring cold water into it. The recipe warns of splatters. I am (a) chicken of splatters (which is yet another reason we never have fried food in this house - I cook my bacon in the oven) and (b) often surrounded by little people when I'm in the kitchen. The idea of something hot and sticky splattering everywhere, when two of my little people recently ended up with 2nd degree burns thanks to hot tea....not something I was looking forward to. However, one of the other Daring Bakers,
Linda
, shared a tip about making the caramel syrup:
When I was ready to pour the water into the bubbling caramel syrup, I took a piece of aluminum foil, cut a quarter-sized hole in the center and placed it over the pot of boiling syrup. Then I slowly poured the cold water through the hole. Worked like a charm. Not a splatter outside the pan or on my hand.
I used that tip and it was definitely a
great
one, especially since Elizabeth and Annie were in the kitchen with me while I was making it.
I made this cake for dinner with three other couples and it was well received. I have to admit being very nervous as I'd not tasted it before. When I cut it at Janet's I dished some onto a plate and said, "Let me take a bite of this before you give any other pieces out! If I messed it up, we'll eat the apple pie Teresa brought!" But...mmmm...good cake! Dense, moist - very good. The icing was rich but not too sweet. No photos and we devoured the cake, then what was left over, my girls had for breakfast on Saturday morning. (yeah, cake for breakfast -- but then their morning snack was no-sugar-added organic applesauce so we made up for it)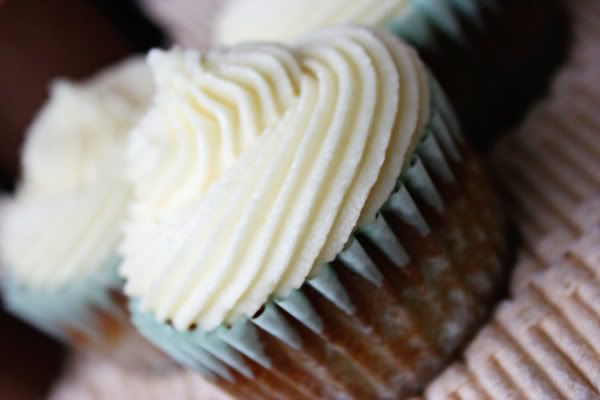 I'd also volunteered to take a dessert to choir retreat at the church on Saturday (our church choir spends one day hammering out Christmas music in order to
not
have to add additional rehearsals during the holiday season). After tasting the cake I decided I'd do the same recipe as cupcakes. The recipe made 21 cupcakes - perfect! 18 for choir retreat and one for each of my girls. I filled the cupcake liners two-thirds full, baked them at 350 for about 13 minutes. They were delicious! I will definitely be making this cake again. And again. And again! Even my husband, who doesn't really like cake, liked it!
Be sure to check out how other
Daring Bakers
fared - and I know some make the caramel candies, too. Mmmm! You'll definitely want to check that out!