I've been wanting to try my hand at crackers for a while now. And along came another Daring Bakers challenge to make me do just that!
Natalie from
Gluten A Go Go
, and co-host Shel, of
Musings From the Fishbowl
chose Lavash Crackers from Peter Reinhart's The Bread Baker's Apprentice. The Challenge: You can make the Lavash Crackers either with all purpose wheat flour or you can try making them gluten free. You may use any variety of spices/seeds/salt to top the crackers. All dips/spreads/relishes/salsas must be vegan and gluten free. I went with all-purpose flour and did a simple sesame seed and kosher salt topping on the crackers. My spread for them was hummus. I chose David Lebovitz's
Cabbagetown Hummus Recipe
and it was wonderful (recipe linked). Once again, my 4 year-old declared my efforts as "dee-yi-cious" and this time, my 7-month-old was able to partake (both crackers and hummus). I am definitely going to make these crackers again for Harrison's snacking enjoyment. And for the adults, I'm going to make some "Razorback Caviar" to serve with the crackers when I make them again. (recipe below)
Razorback Caviar with black-eye peas
2 cans (14-15 oz) black-eye peas without bacon, drained
1 can (14-15 oz) white hominy, drained
1 can (14-15oz) black beans, drained and rinsed
2 medium tomatoes, chopped
4 green onions, chopped
2 cloves garlic, minced
1 medium green bell pepper, finely chopped
1 jalapeno pepper, finely chopped
1/2 cup chopped onion
1/2 cup chopped fresh parsley
1 8oz bottle Italian salad dressing
1 can Rotel tomatoes, drained
Mix, refrigerate, serve.
This is a great recipe to use fat-free salad dressing in because there are so many other flavors going on you won't miss the fat in the dressing. :)
The Crackers:
I had to keep a close eye on the crackers once I put them in the oven - they browned very quickly but that's an issue with my oven not the recipe.
Ready to go into the oven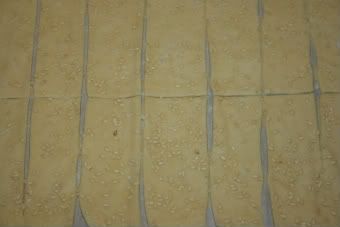 And here they are out of the oven:
You can check out
other Daring Bakers'
Lavash Cracker and Vegan Dip (and I would if I were you - there were so many wonderful ideas and combinations). Many thanks to Natalie and Shel for a wonderful challenge!