These are Housepoet's Famous Oatmeal, Chocolate-Chip & Flaxseed Meal Lactation Boosting Cookies. The original was apparently posted on LiveJournal and housepoet is not a member there anymore from what I can tell. The recipe was posted on an online playgroup I visit and is legendary amongst breastfeeding moms - just google "lactation cookies" and see what I mean.
The cookies are basically a cowboy cookie that has no nuts but does have the addition of flaxseed meal and brewer's yeast that, along with the oatmeal, aid in milk production. Don't worry, if you're not lactating it won't make you spontaneously start doing so. If you
are
a breastfeeding mom, they say four cookies a day is the "magic number" for helping increase production. I...um...eat more than that a day - I love cookies. :) This cookie give a new meaning to the phrase "milk and cookies."
I've made this dough 10 times since Harrison was born 18 weeks ago, so you're getting all my notes in this post. I have a husband and two little girls "stealing" my cookies, too (actually, the husband just steals the dough - not the cookies - and oldest daughter doesn't like them). I've tried them with milk chocolate chips - they were okay, I prefer semi-sweet. I've also tried them with white chocolate chips - entirely too plain. Had I added almonds and Craisins with the white chocolate chips, I might've liked that - but I didn't have them on hand when I made that batch.
I like to make the dough and put it in the fridge, scoop out six cookies at a time to bake - then I eat them fresh from the oven. If I had a plate of six dozen cookies sitting around, they wouldn't last six days. I also like to freeze the scoops. That's worked really well, too.
She recommends baking them on parchment or a Silpat - these cookies
need
that. They will stick to the cookie sheet like crazy.
I buy the flaxseed meal, thick-cut/steel-cut oatmeal and brewer's yeast at Whole Foods. Please note - brewer's yeast is *not* the same as nutritional yeast. Also, don't buy the brewer's yeast tablets - buy the flakes/buds. (and if you're not lactating, you can leave the brewer's yeast out and still have a really good cookie - the flaxseed meal is good for you so you can leave it in).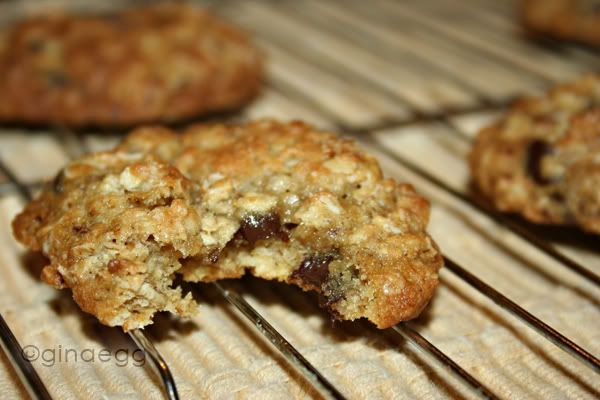 Housepoet's Famous Oatmeal, Chocolate-Chip & Flaxseed Cookies

2 Tablespoons flaxseed meal
4 Tablespoons water
1 cup butter, softened
1 cup granulated sugar
1 cup brown sugar
2 eggs
1 teaspoon vanilla
2 cups flour
1 teaspoon baking soda
1 teaspoon salt
2 Tablespoons brewer's yeast (be generous)
3 cups thick-cut oatmeal
1 cup - or more - chocolate chips
Preheat oven to 375-degrees (F).
In a small cup or bowl, combine flaxseed meal and water. Allow to sit 3-5 minutes.
Cream butter and sugars until well blended.
Add eggs, one at a time beating well after each one.
Stir in vanilla and flaxseed mixture.
Sift together flour, baking soda, salt and brewer's yeast. Add to butter mixture and mix well.
Add oats and chocolate chips.
Spoon or scoop onto a parchment- or Silpat-lined cookie sheet. Bake for 8-12 minutes at 375-degrees. The original recipe says the dough will be crumbly and so it helps to use a scoop. I don't ever find it to be crumbly, mine is actually soft and so I put it in the fridge for a couple of hours. I use the
medium scoop
from Pampered Chef to make my cookies - it's about 2 Tablespoons according to their product details. It makes the perfect size cookie if you ask me!